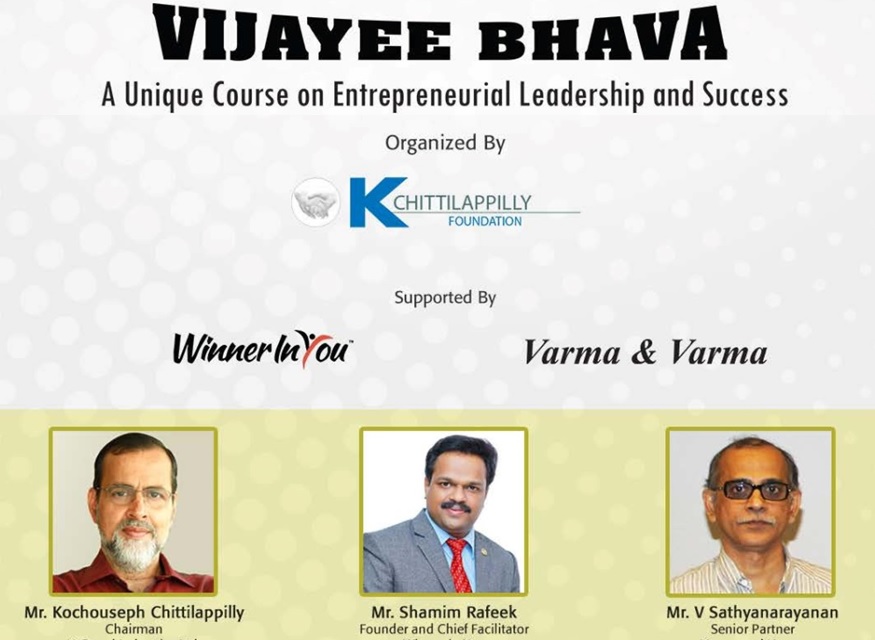 High performance entrepreneurship is neither an accident nor a coincidence, but the result of continual innovation, pre-meditated planning, honing the skills, deepening the domain knowledge and acquiring the right attitude. Great entrepreneurs generate wealth. Not just for themselves, but for all around them and beyond.
It's a deeply rewarding and immensely satisfying journey. The best replica watches world is becoming increasingly entrepreneur-friendly and those who grab the opportunity are bound to succeed. Even though hundreds of enterprises get started only handful of them hit the right track to success. Converting a start-up into a sustainable engine of growth calls for ingenuity, creativity and boldness. The ability of entrepreneurs to innovate relates to innate traits, including extroversion and a proclivity for risk-taking.
Here is your opportunity to learn the secrets of successful entrepreneurship from the leaders who have proved their mettle as role models.
After the success of 12 Batches of Vijayee Bhava, the 13th batch of Vijayee Bhava is scheduled to commence from 17th October to 7th November 2017.
WHO CAN ATTEND?
Selected entrepreneurs from Kerala with Degree/ Diploma, running business of their own for the past 3 years or more with adequate communication skills in Malayalam and English can enrol. Age limit : 25 yrs. to 45 yrs. The fundamental objective of the program is to empower entrepreneurs with deep insight into the successful running of enterprises. The applications will be screened by the selection committee and those selected for the programme will be informed by e-mail.
FACILITATORS
The program is initiated by Shri. Kochouseph Chittilappilly, the acclaimed industrialist, author, humanitarian and socially conscious business role model and supported by Shri. Shamim Rafeek, a high profile Business Coach / Corporate trainer and M/s Varma & Varma.
SPEAKER BANK
Leading successful Entrepreneurs from Kerala are expected to address the participants in the interactive sessions sharing their valuable success stories.
COURSE CONTENT
The course will cover all the topics relevant for making the business successful including, Leadership & Innovation, Marketing &Planning, Communication Skills, Operations and Strategy, IT & Social networking, Financial Planning, Corporate Law & Taxation, Industrial & labour law, Business Ethics & Values, Manpower Management etc.
DURATION
The programme will have four sessions headed by business leaders and eminent trainers. Each session will be of seven hours from 11. A.M to 6. P.M on all Tuesdays starting from 17th October to 7th November 2017. Participants will have to report at 10.30 AM for Networking followed by sessions.
VENUE
Venue will be Hotel Beaumonde The Fern(Opp. Eranakulam South Railway Station).
METHODOLOGY
The methodology of the course includes; Training, Brainstorming, Interactive sessions, Group Discussions, Role Plays, Audio – Visual Presentations, Study material, Assignments, Activities, Management Games, Observing and providing Feedback and Analysis.
COURSE FEE
The course fee for the entire four sessions to be paid by the selected candidates payable at our request on selection based on your application, which includes course materials, working lunch and high tea for all sessions. The deatails will provided to you by KCF.
CERTIFICATION
On successful completion of 4 sessions, the participants will be awarded the completion certificate and will be entitled to get a membership in Vijayee Bhava Alumni comprising of 380 plus Entrepreneurs from previous 12 batches of Vijayee Bhava.
APPLICATION
Application forms can be downloaded from the website
CONTACT
K Chittilappilly Foundation,
Email: kcfcochin@gmail.com , Web: www.kcfoundation.in ; Phone - 0484 2973955
Or
Winner In You Training & Coaching Services,
E-mail: info@shamimrafeek.com , Web: www.winnerinyou.in ; http://www.shamimrafeek.com/index.html ; Phone - 0484 6597799
COMMENTS FROM PARTICIPANTS OF VIJAYEE BHAVA
" Very honest... my answer is a "Big YES" for your all question.. Yes, As I given the feedback on last day, I was searching this kind of opportunity to developing my skills & make over my thoughts to proper vision. In every VB session I came to know that "Yes, I am on track." or "I should change myself like this.." etc.. Previously I never had a yearly Goal/Target. We were just running like a "Coffee Shop". This time I took a first step, by this year (2014) we have a good vision to double up our income... Also I am sure I will be able to increase our team size to 100 or plus. Thank you very much for passing this energy. "
KC Jagadeep - Offshorement Solutions, Perumbavoor.
" Vijayeebhava has truly been a turning point in my entrepreneurial career. In various aspects I have achieved better clarity of thoughts and the acquaintances I was able to build during the program will surely remain connected forever. "
Mr. Vijay - Ize Creative Degital Marketing, Kochi.
" After attending the program, I have introduced some constructive changes to our company policy and changed our sales/marketing plan as per the recommendations at the program. Which paid off. "
Mr. Ajin Baby - Veeble Softech Pvt. Ltd., Kochi.
" If I want to share you the result of 'VIJAYEE BHAVA,' in my life, I feel I need thousand tongues to describe it. So in short, the 'VIJAYEE BHAVA' effect is starting to change both my entrepreneurial and personal life much more. In my whole life, each and every turning point is gifted by GOD. When I was diagnosed High BP by the Doctor, I have decided to return to a career again. And that is the time I saw and applied for VIJAYEE BHAVA and the rest is... "
Mr. Subash Babu - Inexoft Technologies, Kochi.
" It was a wonderful experience which I can't express in words, and I am trying (I will) to implement the experience which I got from Vijayeeb hava in my life and business. Everything I learned from various businesses, financial and marketing experts is an added advantage,I will surely recommend to my friends and who wish to have a successful life in business and family. "
Anu Ettutharayil - Ettutharayil Financiers, Kayamkulam.